Tag Archives:
California wine
Fine Wine Source Wine

February 2019
Cosentino Winery:
Marty Peterson comes from a family with a rich farming history. In 1904, his great-grandfather, Carl A. Peterson, made his way by ferry to Lodi, an agricultural community at the mouth of the Sacramento River Delta, 60 miles east of San Francisco, where he founded the family ranch. For more than a century, the Peterson family has farmed 100 acres in the Lodi region, now planted to fine wine grape varietals, as well as Bing cherries. The fourth generation of growers from the family property, Marty grew up in a community of farmers who shared a similar commitment to the land. The childhood friends and family relationships forged over many years are still firmly in place, giving him an insider's insight—and connections— into this important, emerging winegrowing region. Marty received his Bachelor of Sciences in Enology from Fresno State University in 2002, giving him expertise on the cellar side and refining his natural farming knowledge. Peterson joined Vintage Wine Estates in 2011 as winemaker for Viansa Sonoma; in May of 2015 he was then appointed Winemaker at Cosentino Winery, where he draws on his deep roots in the Lodi region, as well as his knowledge of the Napa and Sonoma appellations, to create uniquely expressive wines of balance and complexity. Cosentino Winery is renowned for creating the first designated and licensed Meritage wine, Bordeaux inspired blend (The Poet) that set the standard that others would follow in Napa Valley.
About:
In 1990, 'THE' Series was introduced with 'THE Zin,' showcasing the best grapes from the Lodi AVA and paving the way for 'THE' Series of wines. 'THE' Series is now our largest volume collection of wine from the Lodi AVA. 2016's THE Dark is a proprietary blend of Petite Sirah, Petit Verdot and Cabernet Sauvignon aged 12 months is French oak barrels. The grapes for THE Dark were hand-harvested in Lodi, an AVA known to benefit from the cooling Delta influence. The 2016 harvest was notably even and steady, providing balanced yields of quality fruit which allowed us to craft a wine with both freshness and depth of fruit. Don't be afraid of THE Dark – enjoy now or over the next three years.
Varietals:
Undisclosed percentages: Predominantly Petite Sirah blended with Petit Verdot, and Cabernet Sauvignon.
Alcohol:
14.5%
Tasting Notes:
THE Dark lives up to its name with an inky dark hue in the glass and rich aromas of plum, blackberry jam and blueberry cobbler. The palate is dense with fruit flavors, pepper spice and vanilla barrel toast leading to a brooding finish that is smooth and opulent.
Food Pairings:
THE Dark can hold its own against slow-roasted short ribs and rosemary-crusted lamb or a slow cooked herb-crusted bottom roast with carrots, onion, celery, potatoes, and stewed tomatoes; however, it is equally delicious to indulge in after dinner alongside aged Gouda or flourless chocolate cake. THE Dark would also be a perfect pairing to Valentine's chocolates and a romantic candle-lit evening with your sweetheart!!
Jim Lutfy's Thoughts:
Big, rich, and chewy…A full throttle Wine that way overachieves; best served with BBQ!!!
Fine Wine Source Wine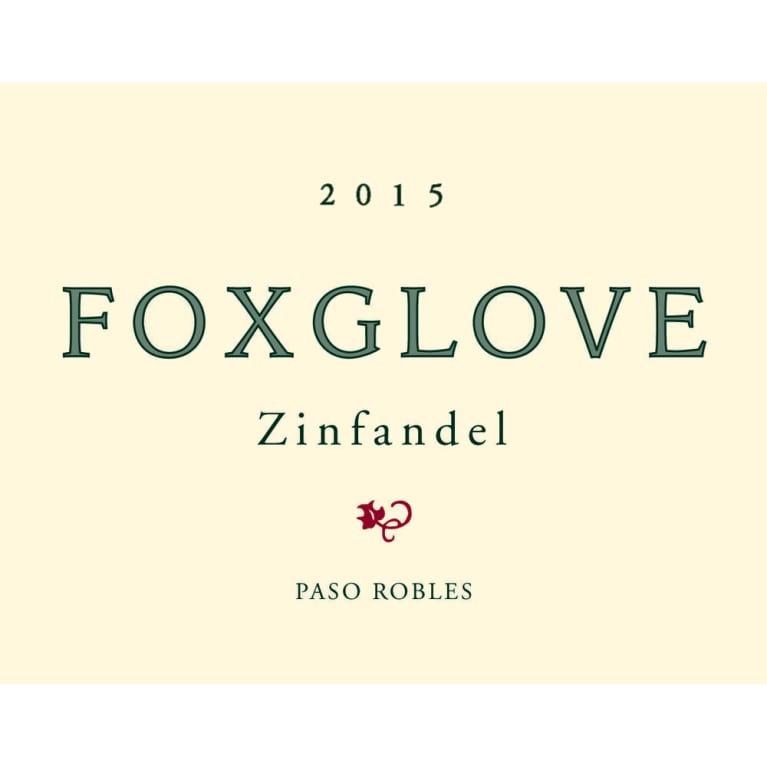 January 2019
Foxglove Wines:
Foxglove is the value label from twin brothers Jim and Bob Varner. "The idea," says Bob Varner, "is to be as simple as possible." At the core of Foxglove is Bob Varner, also the winemaker at Varner Wines. Starting from their first vintage in 1991, Bob sources his Pinot & Chardonnay from a variety of places, all of which are in Edna Valley. The resulting wine has Central Coast appellation pricing, and is full of the complex fruit flavors that the Edna Valley appellation is known for. Edna Valley, a relatively small appellation, grows mostly Chardonnay on about 1000 acres. The entire acreage is tightly controlled by a few owners employing the most up-to-date vineyard practices that give the valley impressive evenness. Located just south of San Luis Obispo, its vineyards are some of California's closest to the Pacific Ocean. Mild winters, cool, foggy summer, and clay-loam soils produce a combination of flavors that have been described as "textbook Central Coast." Bob and Jim Varner are best known for the Chardonnay and Pinot Noir they produce under the Varner label, but Foxglove has become one of the great value labels made in California. The Foxglove wines are selected from several sites located in the Central Coast and are made with the same care and dedication as the Varner wines. The warm climate and ocean influence create wines that burst with fruit but have plenty of vibrancy and freshness. The use of oak is minimal and the Chardonnay is non-malolactic. While Chardonnay is the best know varietal from Foxglove, the Cabernet and Zinfandel have slowly gained an equally strong following.
About:
Food & Wine picked the 2015 Foxglove Zinfandel as an exceptional bargain bottle for under $20: "The juicy wild berry and herb flavors in this great-value Zinfandel finish with tart acidity" August 7, 2017. Sourced from the Northern area of Paso Robles, the vines have an average age of twenty-five years. The vines are planted on rolling hills with loam soils at 900-1,000 feet of elevation. 100% destemmed, pressed at dryness, and malolactic completed after pressing. The use of stainless on the Foxglove Zin keeps the ripe fruit from being too dark.
Varietals:
80% Zinfandel & 20% Petite Syrah
Alcohol:
14.5%
Tasting Notes:
Offering up pretty aromas of strawberries, blackberries and spice, the 2015 Zinfandel is medium-bodied, supple and velvety, with melting tannins and a juicy core of fruit. This is a delicious Zinfandel that represents amazing value.
Food Pairings:
Zinfandel wine is happiest when paired with anything from the meat aisle, from barbeque pork ribs, leg of lamb or a big, hearty meal. Think Pork, Beef, Lamb, Italian Sausage, Spare Ribs, Brisket, or Venison. You can also enjoy Zinfandel with bold, hearty soups, as well as your favorite kind of pizza. If cheese is your thing, try Foxglove Zin with Parmesan, Aged Cheddar, Aged/Smoked Gouda, Asiago, or Dry Jack. All-in-all, Zinfandel is a versatile wine for pairings!
Jim Lutfy's Thoughts:
Textbook Zinfandel: Purity of flavor, loads of spice and tart cherry!! Big back bone and a long lingering finish; best served with BBQ or Grilled Meats!
Fine Wine Source Wine

November 2018
Primary Wines:
Every Holiday Season we seek out the "as close to perfect" wine to pair with traditional Holiday dishes as we can find. This November, as we move toward another Thanksgiving Feast with family and friends, we have found Primary Wines Pinot Noir. Primary Wines was born out of the desire to bring good wines at great prices to people who aspire to live free and drink well. At the same time, it was imperative to stay true to our ideals, one of which is the essential understanding that all good wines are created equal, but if and only if they reflect their primary and wholesome source, which is the grapes that they are produced from. Finally, we wanted to embrace and encourage the natural intelligence and inquisitiveness of our fellow drinkers by giving them a little insight into the often opaque language used by wine connoisseurs, hence the brief lesson appearing on our labels. In our communal quest to live well, we invite you to go back to the basics and enjoy our fruit-driven, thirst-quenching Primary Wines.
About:
Pinot Noir is an excellent choice for Thanksgiving. Why? These wines are food-friendly, with soft tannins and a fresh burst of tart acidity that helps to cut through rich dishes. They have herbal notes that complement all the sage, thyme, and fennel in a Thanksgiving feast, and an earthiness that brings out the best in mushroom gravy, turkey dripping gravy, stuffing, green bean casserole, and turkey itself. At its best, pinot is elegant, sultry and savory, with a pop of fresh tart berries and base notes that remind me of the wet forest floor. Unfortunately, Pinot Noir is typically an expensive and notoriously tricky grape, so you're not going to find a ton of delicious bottles in the budget price range that will allow you to populate the Thanksgiving table with multiple bottles (Cheap pinot can be overly sweet, overly oaked, and totally disappointing). But if you are looking for a special bottle(s) of Pinot Noir to share at Thanksgiving, we have found one that over-achieves for its price point and delivers exactly what a great Pinot Noir is supposed to for the Thanksgiving Feast. Primary wines produces varietally correct and over-achieving wines from the best vineyards in California. The fruit for this vintage comes primarily from Sonoma County's Russian River Valley but incorporates other California vineyards, and had been crafted by their winemakers that have worked multiple vintages to deliver consistently delicious offerings. On a side note, we have purchased more than what we require for our Wine Club Members to accommodate you and your guests, if you choose to serve this delicious Pinot Noir at your Thanksgiving Feast!
Varietals:
100% California Pinot Noir
Alcohol:
13.5%
Tasting Notes:
Elegant and smooth, but still lively, this California Pinot features enticing aromas of sun-ripened strawberries against a background of warm baking spices.
Food Pairings:
From Turkey to Ham, or Salmon and the enigmatic Turducken, Pinot Noir is the perfect Holiday Feast pairing for the main dishes as well as the many delicious and savory sides!!!
Jim Lutfy's Thoughts:
Rich and opulent, layers of complexity, with a long lingering finish, the Primary Wines Pinot Noir is best served with Thanksgiving Turkey, Oily Fish, or Duck.

Our Pricing :
Regular price —> $39.99
Case Price ( 12 bottles per Case) -> $34.99
Appellation: Russian River Valley/CA
Blend: 100% Syrah
Alcohol: 15.4%
Winemaker's Notes
This wine is from a small hill-top vineyard, nestled among oaks and madrones, in the Russian River Valley on Westside road. Philosopher Bruce Russell has produced a wine as deep and complex as a platonic dialogue and as easy to like as a baby goat. Hints of berries and vanilla, round and supple. In vino, veritas.

Our Pricing :
Regular Price ->$39.99
Case Price ( 12 bottles per Case) -> $34.99
Appellation: Paso Robles-California
Blend:
75% Cabernet Sauvignon,
25% Syrah
Alcohol: 15.0%
About Wine The 2014 Treana Red has an opaque, inky-black color with a ruby-black rim. Bold fruit aromas of dried blackcurrant, blackberry pie filling and pomegranate combine with lavender, menthol and leather with undertones of dark chocolate, roasted coffee, sweet cinnamon and a hint of smoke. On entry, the wine is big and intense, boasting flavors of ripe currants and blackberry pie filling, anise and dark chocolate. Firm tannins and mouthwatering acidity bring the wine to life while toasted oak rounds out the lengthy finish.

Our Pricing :
Regular Price -> $16.99
Case Price ( 12 bottles per Case) -> $14.99
Appellation: California
Blend:
83% Cabernet Sauvignon
7% Cabernet Franc
5% Malbec
4%Petit Verdot
1% Merlot
Alcohol: 13.5%
Winemaking Philosophy:
At TRIM Wine always using only the best fruit in
California. The goal is to make a wine with
concentrated fruit flavors and balance, without
compromising on quality. By producing a wine
with these complex attributes, This Wine can be bottled if it had early accessibility,also it has the
potential to age for years to come.
2013 California Harvest Notes: "Early, even and excellent," are three words that have been
used to describe the 2013 growing season. A warm, dry spring brought early bud break,
helped with canopy vigor and berry size and created ideal conditions for flowering and fruit
set under sunny skies. Winemakers from around the valley agree that the 2013 vintage
shows exceptional promise and potential and exceeds expectations following on the heels of
2012 – another year that has been described as "nearly perfect."
Vineyard Notes: TRIM is a well-crafted Cabernet Sauvignon from outstanding vineyards in
California. Our winemaking team works with some of the best vineyards to produce a lush,
well balanced and fruit forward Cabernet Sauvignon.
March 2016
Domestic Wine: 2013 Cass Vineyard & Winery-Flying Nymph Blanc, White Rhone Blend
Cass Family Vineyard & Winery:  Cass Vineyard & Winery is located in the rolling oak-studded hills between Paso Robles and Creston on California's beautiful Central Coast. This area that the vineyard calls home offers quiet serenity for the visitor and an ideal growing environment for wine grapes. Sited due east of the "Templeton Gap," the vineyards receive the evening's cooling breezes that the west side of Paso Robles is noted for. They also rest far enough from the coast to generate the heat needed to optimally ripen the Rhone varieties grown on their 160 acre estate vineyard. 100% of the wines crafted at Cass Winery are estate grown. Cass Vineyard was planted in 2000, and wine production began in 2005. Founders Steve Cass and Ted Plemons live on the property. In 2010 Michigan natives Doug and Beverly Cass became partners, handling the distribution in the Midwest, East, and Southern states, and have been guests at The Fine Wine Source on several occasions. Doug has been in consumer sales over thirty years and is also co-founder of the Michigan based business Kahootz Toys, whose brands include Play Doh, Lite Brite, and Spiro Graph (that turns 50 this year).
About:  White Rhone blends consist of two or more white grapes originally from its namesake region. They mainly include Viognier, Rousanne, Marsanne, and Grenache Blanc. Blends outside of the Rhone are mostly found in California and Australia and can include all four primary varieties together. Aiming to preserve the intense fruit and aromatics of these varieties, this blend was fermented and aged in 100% stainless steel. Hand-picked in the early morning, the cold grapes were pressed within moments after coming off the vine. Following juice settling, a long, cold fermentation commenced using a unique South African yeast strain. Malolactic fermentation was inhibited to preserve acidity, keeping it crisp and fresh.
Varietals:  65% Rousanne & 35%Marsanne
Alcohol:  14%
Tasting Notes:  Aromas of lemon zest, kumquat, lemongrass, and ruby red grapefruit. Although it displays some restraint at first, it soon opens up to notes of honeydew melon, white rose and fresh herbs. The palate is light on its feet, with lean, zippy acid holding together a core of flavors that span honey mandarin, lemon curd, and green apple. The finish stays tight and clean, with a kiss of agave nectar and wet stone.
Food Pairings:  Squash, smoked fish, Asian cuisine, curry dishes, roast duck, and lobster.
Jim Lutfy's Thoughts:  A truly delightful wine! A perfect patio sipper, that is great with Antipasti and other light dishes.