Fine Wine Source Wine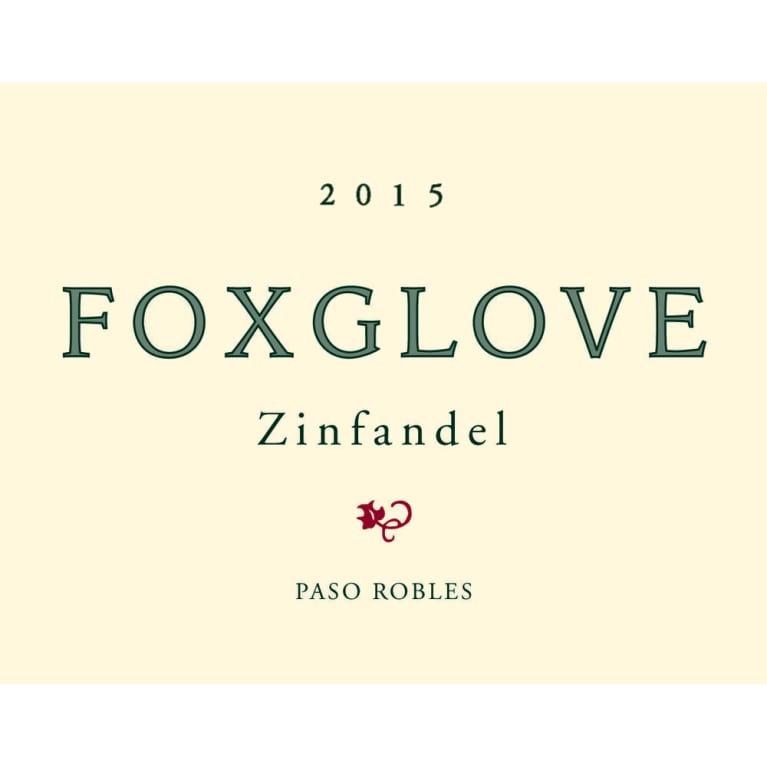 January 2019
Foxglove Wines:
Foxglove is the value label from twin brothers Jim and Bob Varner. "The idea," says Bob Varner, "is to be as simple as possible." At the core of Foxglove is Bob Varner, also the winemaker at Varner Wines. Starting from their first vintage in 1991, Bob sources his Pinot & Chardonnay from a variety of places, all of which are in Edna Valley. The resulting wine has Central Coast appellation pricing, and is full of the complex fruit flavors that the Edna Valley appellation is known for. Edna Valley, a relatively small appellation, grows mostly Chardonnay on about 1000 acres. The entire acreage is tightly controlled by a few owners employing the most up-to-date vineyard practices that give the valley impressive evenness. Located just south of San Luis Obispo, its vineyards are some of California's closest to the Pacific Ocean. Mild winters, cool, foggy summer, and clay-loam soils produce a combination of flavors that have been described as "textbook Central Coast." Bob and Jim Varner are best known for the Chardonnay and Pinot Noir they produce under the Varner label, but Foxglove has become one of the great value labels made in California. The Foxglove wines are selected from several sites located in the Central Coast and are made with the same care and dedication as the Varner wines. The warm climate and ocean influence create wines that burst with fruit but have plenty of vibrancy and freshness. The use of oak is minimal and the Chardonnay is non-malolactic. While Chardonnay is the best know varietal from Foxglove, the Cabernet and Zinfandel have slowly gained an equally strong following.
About:
Food & Wine picked the 2015 Foxglove Zinfandel as an exceptional bargain bottle for under $20: "The juicy wild berry and herb flavors in this great-value Zinfandel finish with tart acidity" August 7, 2017. Sourced from the Northern area of Paso Robles, the vines have an average age of twenty-five years. The vines are planted on rolling hills with loam soils at 900-1,000 feet of elevation. 100% destemmed, pressed at dryness, and malolactic completed after pressing. The use of stainless on the Foxglove Zin keeps the ripe fruit from being too dark.
Varietals:
80% Zinfandel & 20% Petite Syrah
Alcohol:
14.5%
Tasting Notes:
Offering up pretty aromas of strawberries, blackberries and spice, the 2015 Zinfandel is medium-bodied, supple and velvety, with melting tannins and a juicy core of fruit. This is a delicious Zinfandel that represents amazing value.
Food Pairings:
Zinfandel wine is happiest when paired with anything from the meat aisle, from barbeque pork ribs, leg of lamb or a big, hearty meal. Think Pork, Beef, Lamb, Italian Sausage, Spare Ribs, Brisket, or Venison. You can also enjoy Zinfandel with bold, hearty soups, as well as your favorite kind of pizza. If cheese is your thing, try Foxglove Zin with Parmesan, Aged Cheddar, Aged/Smoked Gouda, Asiago, or Dry Jack. All-in-all, Zinfandel is a versatile wine for pairings!
Jim Lutfy's Thoughts:
Textbook Zinfandel: Purity of flavor, loads of spice and tart cherry!! Big back bone and a long lingering finish; best served with BBQ or Grilled Meats!
Fine Wine Source Wine

September 2018
Domaine Lafage:
Domaine Lafage is a leading estate in the Roussillon region in France. Winemaker Jean-Marc Lafage is one of Europe's most highly regarded winemakers and has worked as a consultant in multiple countries. The domaine makes dry wines of all hues under the Côtes du Roussillon AOC along with sweet Maury, Rivesaltes, and Muscat de Rivesaltes wines. In recent years, various wines in the portfolio have received strong marks from Robert Parker in the Wine Advocate. Prices are very modest for the level of acclaim and therefore the wines have become highly sought-after. In fact, Parker called the 2011 Kerbuccio, a Syrah/Grenache/ Mourvèdre blend "one of the top wine values I have ever tasted". Jean-Marc and Eliane Lafage farm 160 hectares of vines located just south of the capital of French Catalonia, Perpignan. Some of their vineyards are situated very close to the Mediterranean, while others can be found in the foothills of the Pyrenees. Benefiting from a warm, dry climate, the estate is farmed organically. They grow primarily Grenache (Blanc, Gris & Noir), Syrah, Mourvèdre, Carignan, Marsanne, Roussanne and Chardonnay with a significant proportion of the vines well over 50 years old. The soil is weathered, alluvial gravel, while in the higher elevation sites it is predominantly schist. They harvest by hand and the winemaking approach is minimalist, with stainless steel, concrete, and small amounts of French oak, and demi-muids. The Lafage cellars are located just outside Perpignan, though it has also has vineyards at Les Aspres and Agly. Domaine Lafage has around 160 hectares (400 acres) of vineyards with vines that are as much as 100 years old. For well over a decade Eric Solomon has worked with Jean-Marc Lafage at his estate in the Roussillon, and across the border in Spain where he consults on several projects.
About:
The Bastide Miraflors is a custom cuvée for Eric Solomon's European Cellars and a joint project with Jean-Marc Lafage. Bastide Miraflors is a cuvée created from Grenache grown on rocky, alluvial clay soils resembling those of the Rhône Valley combined with Syrah grown on schist in the village of Maury. After a long maceration of six weeks the wine ages for 12 months in concrete (Grenache) and 600L French oak demi-muids (Syrah).
Varietal:
70% Syrah & 30% Vielles Vignes (Old Vine) Grenache.
Alcohol:
14.5%
Tasting Notes (from Robert Parker):
"This wine is almost too good to be true. A blend of 70% Syrah and 30% Grenache that was brought up in concrete tanks (Grenache) and demi-muids (Syrah), the 2015 Bastide Miraflors Vieilles Vignes reminded me of a mini Syrah from California's Manfred Krankl (yes I just compared a $14 Syrah to Sine Qua Non). It's a ripe, sexy, heady beauty that exhibits a deep, purple color as well as killer notes of smoked meats, chocolate, blackberry and black raspberries. Deep, unctuous, open knit and layered, it continues to change in the glass, has a seamless and silky profile, and not a hard edge to be found. It's a sensational value that needs to be tasted to be believed. Drink it anytime over the coming 2-4 years."
Food Pairings:
Think early fall comfort foods: Savory sage meatloaf, lasagna, Rosemary herbed potatoes, BBQ/smoked pork loin, country style spare ribs.
Jim Lutfy's Thoughts:
The best Syrah based wine you can buy for the money! Rich, yet elegant, on the palate with a silky and satisfying finish…WOW, what a wine!!!
Fine Wine Source Wine

August 2018
Klinker Brick Winery:
The folks at Klinker Brick Winery believe that great wine begins with suitable climate and soil; both of which are found in Lodi. Sandy loam coupled with the hot and cold temperature exchange that graces Lodi from day to night creates the perfect environment to cultivate warm weather varietals like Zinfandel, Syrah, and Cabernet Sauvignon. A certain level of skill, attention to detail, and harvest accuracy is a requirement for the vintner as well. What once began as a grape growing community from the early 1900's until the late 1980's, Lodi is now a thriving wine-producing region adorned with dozens of wineries, including Klinker Brick. Steve and Lori Felten, fifth generation grape growers in the Lodi region, continue the tradition of cultivating "Old Vine" Zinfandel vineyards that their ancestors planted in the early 1900's.With roots in Germany, Russia and later the Dakotas, the family settled in Lodi, first producing watermelons. Recognizing that the soil and climate were ideal for growing grapes, they began to plant varieties that included Zinfandel, Tokay, Carignane, and Alicante. For over one hundred years, the family has cultivated the land with the aim of producing top quality fruit. Zinfandel was one of the first grape varieties to be planted in the Lodi appellation, although it had also been established in other parts of California. The Felten Family own and manage fifteen individual vineyard blocks of "Old Vine" Zinfandel that range in age from 40 to 120 years old. Each vineyard is planted in sandy loam soils in the Mokelumne River Appellation of Lodi and the Clements Foothills.
About:
Part of the extended Felten Family includes their winemaking consultant, Barry Gnekow, who was responsible for crafting the wines from the inaugural vintage. Barry, a Davis graduate with over 25 years of experience of winemaking, has a unique ability to bring the best of the vineyard into the cellar, year after year, assisting in producing wines of distinction for Klinker Brick. Joseph Smith joined Klinker Brick in 2008 after starting his career in the nineties as an apprentice with Gnekow Family Wines. From there he worked under Barry at Hahn and also Michael David as a cellar master and ultimately our full time winemaker. Joseph has been producing wines of exceptional quality for Klinker Brick.
Varietals:
38% Grenache/30% Carignane/24% Syrah/8% Mourvedre. Harvested in August of 2017
Alcohol:
12.8%
Tasting Notes:
Old World style meets New World Fruit. Pleasant flavors of ripe strawberries, grapefruit and subtle watermelon coupled with a dry composition, gently caress the palate. The finish is incredibly clean with light, bright acidity.
Food Pairings:
Light salads, light pasta, and rice dishes; especially good with seafood, raw and lightly cooked shellfish, and grilled fish and goats' cheeses. If you are looking for a good BBQ pairing, try it with a Turkey Burger topped with Avocado and Manchego Cheese (Google: 'Perfect Turkey Burgers Food Network' for a great recipe!!!); perfect for hot weather drinking!
Jim Lutfy's Thoughts:
Rich and full flavored…not a wimpy rose here! Long on the palate, a perfect summer and early fall sipper, and great with anything on the BBQ!
Fine Wine Source Wine

July 2018
Bodegas Piqueras:
Family owned and operated, the Piqueras family is now in their fourth generation to oversee the property since its establishment in 1915. The winery is located in Almansa, 40 miles from Alicante and the Mediterranean Sea. The vineyards are located inside the Almansa DO which is characterized by its low fertility soils and low rainfall which together with the semi-arid climate combine to create the ideal conditions to produce richly aromatic wines of intense color and flavor. Bodegas Piqueras brings passion to their winemaking. They also take quality very seriously with every step of the winemaking process, and so they keep a close eye on everything. Having grown a lot in recent decades, they still pay the same attention to detail they always have over the generations, without losing sight of the mystique of winemaking that takes a good producer to convey. With state of the art equipment and technology to help with grape picking, pressing, filtration, bottling and labelling, The Piqueras family believe you really have to listen to the wine; to sense its development, to create the perfect blend from each vintage, they can't rely on automated procedures. They have to be right there on the spot, alert in body and mind, to choose the precise moment to harvest the grapes and make the wine. To achieve this requires patience, being there, knowledge and a whole lot of passion.
About:
The Piqueras family believe that a good wine is born in the vineyard, which is why they carry out meticulous plant selection, careful pruning, monitoring of vine health and overall quality control. The family is the body of Bodegas Piqueras, but the heart and soul of their wines comes from fruit & land. The Syrah grape has adapted perfectly to the Almansa climate. It is uses it to make spicy wines that are full of color and flavor. The Monastrell grape, known as Mourvèdre in France, is one of Spain's most important wine grapes, celebrated for its capacity to produce strong, tannic wines that can be high in alcohol. They vineyards are 30-35 year old bush vines which are dry farmed at 750-850 meters elevation in limestone rich, nutrient poor soils that see little rainfall. Harvest began in mid-September then vinification from spontaneous wild fermentation with gradual increases in temperature up to 29º C to obtain good color, and then a gradual decrease to 23 ºC to preserve the primary aroma of the fruit. Racking by gravity feed, 4-6 months in medium toast, fine grain American & French oak barrels (300L).
Varietal:
50% Syrah & 50% Monastrell (Mourvèdre)
Alcohol:
13%
Tasting Notes:
Ripe red cherry, raspberry, crushed boysenberry, red plum and a touch of vanilla spice on the nose. Medium-bodied and deep in color with well integrated fine juicy tannins, persistent and soft on the palate with a silky fruit-forward finish.
Food Pairings:
Enjoy this smooth red by itself or with grilled, roasted or fried dishes, barbecued red meats, rice and pasta dishes, cured salted meats (jamón, chorizo) and semi-cured cheeses.
Jim Lutfy's Thoughts:
A spice box loaded with spicy flavors, sage, and fresh herbs; big intensity and flavor. Best served with lamb or beef.

Our Pricing :
Regular price —> $39.99
Case Price ( 12 bottles per Case) -> $34.99
Appellation: Russian River Valley/CA
Blend: 100% Syrah
Alcohol: 15.4%
Winemaker's Notes
This wine is from a small hill-top vineyard, nestled among oaks and madrones, in the Russian River Valley on Westside road. Philosopher Bruce Russell has produced a wine as deep and complex as a platonic dialogue and as easy to like as a baby goat. Hints of berries and vanilla, round and supple. In vino, veritas.

Our Pricing:
Regular Price -> $169.99
Case Price (12 Bottles Per Case) $149.99
Country: U.S.A
Region: Walla Walla Valley
blend: Syrah
Alcohol:13.4%
About This Wine:
(94-96) Points. The 2014 Syrah En Cerise was a touch more streamlined and reticent on this occasion, yet still offers beautiful black cherry and cassis fruits, underbrush and a hint of espresso roast in a full-bodied, silky, elegant style. Like all of Christophe's wines, it will benefit from short-term cellaring.
February 2016
Imported Wine: 2013 Domaine Forca Real, Mas de la Garrigue
Domaine Força Réal: The origin of the Domaine dates back to 1258 under the reign of the king of Aragon and Majorque with the signing of the military treaty of Corbeil, which stipulated the border between France and Catalonia. Força Réal, translated "Royal Castle," lost its strategic significance a few years later and was ultimately destroyed in 1693. Returned to nature, the property is now attuned to the growing cycles of vines and olive trees. In 1989 Jean-Paul Henriquès bought the property near the village of Millas with an unbeatable view (from the plain of Perpignan, with the sea stretching to the horizon to the peak of Canigou) and replanted a majority of the property with Syrah & Mourvedre.  Among the existing vines he retained only the Malvoisie, a variety for which he has great affection, as well as the old Grenache & Carignan vines. He optimizes the 40 hectares in production by elaborating three cuvées corresponding to the general soil types; Clay, Limestone, and Schist. In 1998, his son Cyril took up the torch to continue producing great wines of The Côtes du Roussillon-Villages.
About:  Domaine Força Réal Mas de la Garrigue comes from manually harvested grapes grown in clay and limestone soils at an altitude of 100 meters. They are placed in small crates to avoid destruction and oxidation of berries and then sorted both before and after destemming. Traditional vinification methods lead into extended cold maceration where the temperature is kept below 62 degrees. Maturation occurs in steel tanks for eight months with malolactic fermentation.
Varietal: 60% Old Vine Grenache, 20% Syrah, 20% Old Vine Carignan
Alcohol: 14%
Tasting Notes: Aromas of sage, marjoram, and white pepper with red berry fruits. Blackberry and melted chocolate are underlined by silky tannins with a touch of sea salt and a puff of tobacco smoke.
Food Pairings: Think pork, smoked pork with rosemary potatoes, fennel sausage, BBQ meats, or chili con carne or Tuscan style bean dishes.
Jim Lutfy's Thoughts:  Herbaceous & rustic, yet rich and succulent; Bravo to the winemaker! Best served with chicken or roasted pork.
"Our label and brand celebrate a historic home at our estate vineyard near Paso Robles. That 150-year-old adobe structure – the Clayhouse itself – still reminds us of the time when grapes were first planted in this area. The Clayhouse, which we've carefully restored, is really the ideal symbol for our vineyard and winery. After all, like the adobe, our wines are created from the earth, cultivated by hand, and nurtured by family traditions.
For the Middleton family, those traditions and deep passion for agricultural businesses go back more than four generations.
Today, Clayhouse Wines extend that proud family legacy with a selection of exceptional wines, all crafted by hand in a refined, elegant style that reflects the unique character of Paso Robles and the depth of flavor that the Central Coast imparts."-clayhouse.com
About 'The Clayhouse':  "The 150-year-old adobe structure — the Clayhouse itself — really is the ideal symbol for our vineyards. After all, like the adobe, our wines are created from the earth, cultivated by hand, and nurtured by family traditions.
For the Middleton family, those traditions and deep passion for agricultural businesses go back more than four generations. Today, Clayhouse extends that proud legacy with its selection of exceptional wines, all hand-crafted in a refined, elegant style that reflects the unique character of Paso Robles."-clayhouse.com
Vintage Description: Even fairly mild summer for Paso Robles. Yields were average producing a good well rounded vintage with expressive fruit flavors.
Varietal: 33% Zinfandel, 32% Petite Sirah, 20% Syrah, 13% Tempranillo, 2% Tanat
Alcohol: 13.7% by volume
Tasting Notes: Sweet ripe red cherries aromas. Jammy strawberry preserves and spice combine in the mouth in this complex blend of fruit flavors. Tannins are soft and rounded with a rich mouthfeel and warm toasty vanilla laced finish.
Food Pairings: This wine is a reliable Jack of all trades, made for cheeses, meat and red sauce based pastas, bbq, pizza or just sipping with friends.
Jim Lutfy's thoughts: "A great blend! Tons of concentration and flavor. A wine that will make you stand up and take notice. A wine that is a perfect summertime sipper! Drink with rich cheeses and hardy meats!"-JL
Located in the municipality of Richerenches, Domaine Mireille et Vincent covers 15 hectares on the left bank of the Rhone . Very famous for its truffles, the town is also known for its wines! The Domaine was founded in 1980s by Bernard Bizard, who before that worked at several other estates. Bizard named the domaine after the couple's two children, Mireille and Vincent, with the first vintage in 1985.
History of Domaine MIreille et Vincent and  its Relation to the Environment: The average age of vines at the Domaine is 35 years old, making the vineyards almost entirely old vines. These vines will flourish for up to 60 years, and account for over 45% of the vines planted in this area. The old vines of Domaine Mireille et Vincent are planted on hillsides with red clay and are more or less pebbly. These strong vineyards give the wine a powerful aroma. Other vineyards in the Domaine are located on old truffle fields, and enjoy a refreshing Mediterranean climate, including wind from the Alps. All of these environmental factors give character and distinction to the wines of this area, and especially the wines at Domaine Mireille et Vincent.
"We are not organic, but we believe in the environment," said Bernard Bizard . Bizard implements new practices constantly to allow the grapes to truly shine. The Domaine produces three separate Côtes du Rhône: one white, one red, and a rosé. The white wine is crafted from traditional varieties (Roussanne , Clairette , Marsanne and Viognier) and have a light color with pale gold shades . The red is typically a blend of Grenache, Syrah, Cinsault and Carignan and is characterized by spicy notes. Lastly, the rosé is a prettier style but has some spice as well.
Varietals: Grenache, Syrah, Cinsault, Carignan
Alcohol: 14.0% by volume
Tasting Notes: Cool and elegant, pure, and with a lovely scent of berries.
Food Pairings: Pair this wine with a hearty meat dish, ragu, or even a roast. This wine will be great with your Thanksgiving turkey as well.
Jim Lutfy's thoughts: "Extremely flavorful, with notes of Worchester, garlic salt, and onion. A very pretty and delicate style, with beautiful aromatics. The vintage gives the wine ripeness, but it is not over the top. Enjoy with soups and stews."-JL
Domestic Wine: NV The Meeker Vineyard 'Roller Coaster' Red, CALIFORNIA 
Charles and Molly Meeker bought their first vineyard in Sonoma County's Dry Creek Valley in 1977, and thereafter, in 1984, established their winery — The Meeker Vineyard — with Charlie as the winemaker. In its early years, the winery specialized in Zinfandel, Cabernet Sauvignon, and Chardonnay.
The winery's first red wine release, a 1984 Zinfandel, was an instant success, winning eight wine competition medals and becoming the third most awarded Zin in the country that year. Thereafter, among other awards, the 1985 Meeker Zin was a Wine Spectator "Best Buy", the 1986 Zin was a "Spectator Selection", and the 1990 Zin was included among the Wine Spectator's "100 Best Wines of the World". During this period Charlie was also honored to present a Meeker Zinfandel at one of the famous Windows on the World wine dinners in New York; and Zinfandel wasn't the winery's only success – for example, the Wine Spectator gave a 91 Points score to one of Charlie's early Chardonnays.
History of Syrah and its Relation to Meeker: Syrah continues to be the main grape of the northern Rhône and is associated with classic wines such as Hermitage, Cornas and Côte-Rôtie. In the southern Rhône, it is used as a blending grape in such wines as Châteauneuf-du-Pape, Gigondas and Côtes du Rhône, where Grenache usually makes up the bulk of the blend. Although its best incarnations will age for decades, less-extracted styles may be enjoyed young for their lively red and blueberry characters and smooth tannin structure. Syrah has been widely used as a blending grape in the red wines of many countries due to its fleshy fruit mid-palate, balancing the weaknesses of other varieties and resulting in a "complete" wine.
From the 1970s and even more from the 1990s, Syrah has enjoyed increased popularity, and plantings of the variety have expanded significantly in both old and new locations, like Sonoma. In the early 2000s, it broke into the top 10 of varieties planted worldwide for the first time.
Varietals: Syrah, Petite Sirah, Cabernet Sauvignon, Zinfandel, Cabernet Franc, Barbera, Petit Verdot, Carignane, Merlot, Malbec, and Grenache
Alcohol: 14.6% by volume
Tasting Notes: This wine opens up with a nose of berries, coffee, cola and earth. On the palate, there is black cherry, blackberry cobbler and spice surrounded by toasty French oak and vanilla with a long lingering finish that lasts way after the ride is over.
Food Pairings: Drink this fun wine with barbeque, grilled meats, and even spaghetti!
Jim Lutfy's thoughts: "Jammy with rich flavors and layers of ripeness. It is a 'drink me up kind of style!' Enjoy with food or by itself! Cheers!"-JL