Category Archives:
Wine Club Selections
Fine Wine Source Wine

October 2017
Chateau L'Escart:
Château L'Escart was built in the 18th century and is located in the little town of Saint Loubes surrounding the Dordogne River. The Laurent family has been sharing their passion for wine for decades, through the cuvées of Château L'Escart, produced from their one piece of 37ha of vineyards in Saint-Loubès. Gérard and his team know that greatness in wine depends essentially on the greatness of the grapes. This is why they take really great care of the vineyards, in order for the vines to naturally resist parasites with as little treatment as possible. They know how important it is to respect the land that doesn't belong to them. Thus, each harvest keeps the full expression and richness of the terroir. As they say at Chateau L'Escart: "Making great quality wines and respecting the land that we are borrowing from our children". It is precisely for this reason, and their strong relationship to their terroir, that they decided to convert the vineyards to Biodynamic farming. This philosophy continues in the cellar, where only wild yeasts are used in the fermentation.
About:
Le Bergey is the entry level label of Château L'Escart, a Bordeaux Supérieur winery run by the Laurent family that live on the property. The estate is organically farmed and managed for quality throughout every step necessary to make a fine bottle of wine. Consistently outstanding, this is yet another strong showing from one of L'Escart's most price-worthy properties. Using only vines that are a minimum 15 years of age adds a measure of concentration usually found only in wines costing considerably more.
Varietals:
60% Cabernet Sauvignon & 40% Merlot
Alcohol:
14%
Tasting Notes:
Dark intense fruit; cooked cherry, licorice, currant, and hints of baking chocolate on the nose. This Bordeaux wine is intense and concentrated on palate with ripe cherry, licorice, blackberry followed dry tannins and a tightly wound fruit on the finish.
Food Pairings:
Pair with beef roast, steak, and meatloaf. Think fall comfort foods or slow roasted meat and vegetable; a great autumn wine to sip and watch the leaves fall from the trees.
Jim Lutfy's Thoughts:
Big Rich multi-layered flavors of savory leather, pork, and cedar. It lasts in your palate for over 4 to 5 minutes on the finish. A wonderful wine to say the least, best served with rack of lamb or any red meats.
Fine Wine Source Wine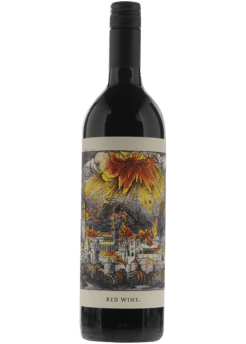 October 2017
Rabble Wine Company/Force of Nature:
This Central Coast winery showcases the best fruit from Paso Robles and the Santa Maria Valley. Their wine style exemplifies bright acidity, all while showcasing true varietal characteristics. Balance is the theme throughout, keeping alcohol levels below 15% and finely-tuning tannins to deliver a lush, full bodied wine with balanced acidity. The Force of Nature label was launched in 2011 and Rabble Wine Company was founded by Rob Murray, a long-time Central Coast vineyard owner and grape grower. As of February 2016 wines produced as Force of Nature will now be labeled as Rabble Wine Co., taking effect with the 2015 vintage; subsequently, this bottle will be the last labeling as Force of Nature Red Blend. "Apparently, trademarks are important in this industry," Andrew Nelson, partner and vice president of sales and marketing sarcastically stated. "First to market is not enough. Changing from Force of Nature to Rabble will ensure we're able to continue our explosive growth. Winemaking and grape growing has always been our focus." The labels all incorporate beautiful public domain art rooted in history: woodblock prints from the 1500's, illustrations by John James Audubon, and etchings from William Blake and John Boydell. Our labels, like our wines, are known to engage, evoke emotion, and spark conversation.
About:
Rob Murray believes "We cannot command Nature except by obeying her." Sourced from the volatile Mossfire Ranch Vineyard that sits on steep hillsides in a rolling valley floor, the vines see all that Nature has to offer: sun, snow, stream, and sea. With 40 degree diurnal shifts, snow dustings, summer sun, and bitter winds, the extremity of the climate creates fruit of extraordinary concentration and uniform ripeness.
Varietals:
67% Merlot, 11% Cabernet Sauvignon, 11% Syrah, & 11% Petite Sirah
Alcohol:
14%
Tasting Notes:
Brooding purple with dark rimmed color, first blooms with red cherry, rustic rhubarb to dark raspberry with hints forest floor and ends with a dusty suede nose. The palate is explosive, lush ripe fruits give way to supple tannin, layers of dark and bright berries with balanced acidity and firm yet restrained structure. The strong finish lingers of black tea and plum.
Food Pairings:
This fruit forward wine exhibits soft tannins making it an ideal everyday drinker perfect for any occasion…pizza night, spaghetti and meatballs, and especially with a good old fashioned cheeseburger.
Jim Lutfy's Thoughts:
An incredible red blend with flavors of blueberries dried cherries and ripe raspberries that intermingle with oak and hickory to make a wonderful red blend; best served with barbequed meat, chicken, or spicy Mexican or Mediterranean foods.