Fine Wine Source Wine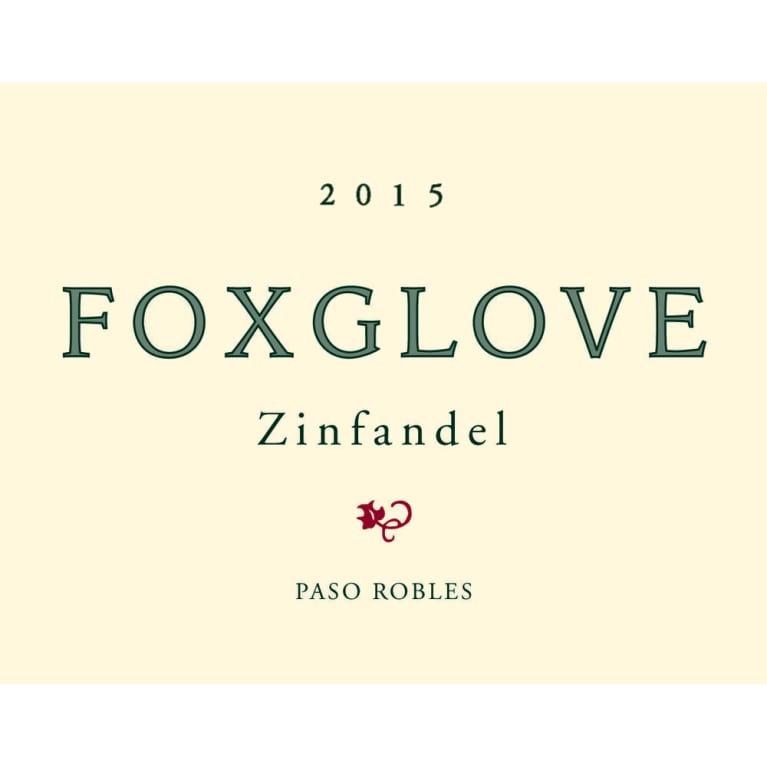 January 2019
Foxglove Wines:
Foxglove is the value label from twin brothers Jim and Bob Varner. "The idea," says Bob Varner, "is to be as simple as possible." At the core of Foxglove is Bob Varner, also the winemaker at Varner Wines. Starting from their first vintage in 1991, Bob sources his Pinot & Chardonnay from a variety of places, all of which are in Edna Valley. The resulting wine has Central Coast appellation pricing, and is full of the complex fruit flavors that the Edna Valley appellation is known for. Edna Valley, a relatively small appellation, grows mostly Chardonnay on about 1000 acres. The entire acreage is tightly controlled by a few owners employing the most up-to-date vineyard practices that give the valley impressive evenness. Located just south of San Luis Obispo, its vineyards are some of California's closest to the Pacific Ocean. Mild winters, cool, foggy summer, and clay-loam soils produce a combination of flavors that have been described as "textbook Central Coast." Bob and Jim Varner are best known for the Chardonnay and Pinot Noir they produce under the Varner label, but Foxglove has become one of the great value labels made in California. The Foxglove wines are selected from several sites located in the Central Coast and are made with the same care and dedication as the Varner wines. The warm climate and ocean influence create wines that burst with fruit but have plenty of vibrancy and freshness. The use of oak is minimal and the Chardonnay is non-malolactic. While Chardonnay is the best know varietal from Foxglove, the Cabernet and Zinfandel have slowly gained an equally strong following.
About:
Food & Wine picked the 2015 Foxglove Zinfandel as an exceptional bargain bottle for under $20: "The juicy wild berry and herb flavors in this great-value Zinfandel finish with tart acidity" August 7, 2017. Sourced from the Northern area of Paso Robles, the vines have an average age of twenty-five years. The vines are planted on rolling hills with loam soils at 900-1,000 feet of elevation. 100% destemmed, pressed at dryness, and malolactic completed after pressing. The use of stainless on the Foxglove Zin keeps the ripe fruit from being too dark.
Varietals:
80% Zinfandel & 20% Petite Syrah
Alcohol:
14.5%
Tasting Notes:
Offering up pretty aromas of strawberries, blackberries and spice, the 2015 Zinfandel is medium-bodied, supple and velvety, with melting tannins and a juicy core of fruit. This is a delicious Zinfandel that represents amazing value.
Food Pairings:
Zinfandel wine is happiest when paired with anything from the meat aisle, from barbeque pork ribs, leg of lamb or a big, hearty meal. Think Pork, Beef, Lamb, Italian Sausage, Spare Ribs, Brisket, or Venison. You can also enjoy Zinfandel with bold, hearty soups, as well as your favorite kind of pizza. If cheese is your thing, try Foxglove Zin with Parmesan, Aged Cheddar, Aged/Smoked Gouda, Asiago, or Dry Jack. All-in-all, Zinfandel is a versatile wine for pairings!
Jim Lutfy's Thoughts:
Textbook Zinfandel: Purity of flavor, loads of spice and tart cherry!! Big back bone and a long lingering finish; best served with BBQ or Grilled Meats!
Fine Wine Source Wine

December 2018
Lanciola:
Just a few kilometers outside Florence, on the rolling hills of Impruneta near Pozzolatico, lies Azienda Agrícola Lanciola. It is immersed in the distinctive Tuscan countryside, amidst olive-groves, cypress trees and vineyards. The estate totals around 80 hectares, with 40 hectares covered by vineyards and the remainder devoted to olive groves. The property has a very illustrious past. In Medicean times it belonged to the noble Ricci family, who was also responsible for organizing the estate's early farming and winemaking activities. The goal of the present owners, the Guarnieri family, has been to maximize the use of the land. The estate's vineyards – formerly called "Terre dei Ricci" – produce "Terricci", an IGT (Indicazione Geografica Tipica) red table wine which is obtained mainly from large berry Sangiovese Grosso and Cabernet Sauvignon grapes; "Ricciobianco," a white wine with excellent structure obtained from Chardonnay grapes; a Chianti Colli Fiorentini, a Vinsanto fortified wine; and finally, "Riccionero," a pure Pinot and top quality Extra Virgin Olive Oil. In Greve, in the heart of the Chianti Classico area, the Azienda Agrícola Lanciola occupies roughly 14 hectares. Ten of those are devoted to specialized vineyards with optimum south-west exposure, on particularly favorable soil, at an altitude of approximately 300 meters. In addition to Sangiovese, the vineyards also contain Cabernet Sauvignon, Merlot, Syrah, Canaiolo and Colorino grapes.
About:
In Greve, in the heart of the Chianti Classico area the Azienda Agricola Lanciola has around 14 hectares, 10 of which are devoted to specialized vineyards with optimum south-west exposure, on particularly favorable soil, at an altitude of approximately 300 meters. In addition to Sangiovese, the vineyards contain Cabernet Sauvignon, Merlot,Syrah, Canaiolo and Colorino grapes. The soil is comprised of shale and loam, and the vineyards are situated at 250 meters with a south-west exposure. The fruit was harvested during the first week of October and aged in stainless steel tanks for a minimum of six months.
Varietal:
90% Sangiovese and 10% Local Grapes (either Colorino, Cab, Merlot, or a blend of the lot)
Alcohol:
13.5%
Tasting Notes:
Deep and slightly violet blood red with a lively ruby rim in the glass. The bouquet is fairly intense and fresh with forest berry fruit, cherry, and black currant that gains definition from hints of earthiness balanced with fruit acidity and slight floral accents. On the palate it is ample and smooth with dark berry fruit flavors supported by fresh acidity and slight tannins leading to a clean berry fruit finish.
Food Pairings:
Grilled meats, light stews, venison, pasta Bolognese , or just to drink by the glass at holiday parties with family and/or friends; essentially, this wine pairs great with family, friends, and a good time!
Jim Lutfy's Thoughts:
Elegant with a plummy mouthfeel and a long lingering finish; great to serve with something tomato saucy!
Fine Wine Source Wine

November 2018
Primary Wines:
Every Holiday Season we seek out the "as close to perfect" wine to pair with traditional Holiday dishes as we can find. This November, as we move toward another Thanksgiving Feast with family and friends, we have found Primary Wines Pinot Noir. Primary Wines was born out of the desire to bring good wines at great prices to people who aspire to live free and drink well. At the same time, it was imperative to stay true to our ideals, one of which is the essential understanding that all good wines are created equal, but if and only if they reflect their primary and wholesome source, which is the grapes that they are produced from. Finally, we wanted to embrace and encourage the natural intelligence and inquisitiveness of our fellow drinkers by giving them a little insight into the often opaque language used by wine connoisseurs, hence the brief lesson appearing on our labels. In our communal quest to live well, we invite you to go back to the basics and enjoy our fruit-driven, thirst-quenching Primary Wines.
About:
Pinot Noir is an excellent choice for Thanksgiving. Why? These wines are food-friendly, with soft tannins and a fresh burst of tart acidity that helps to cut through rich dishes. They have herbal notes that complement all the sage, thyme, and fennel in a Thanksgiving feast, and an earthiness that brings out the best in mushroom gravy, turkey dripping gravy, stuffing, green bean casserole, and turkey itself. At its best, pinot is elegant, sultry and savory, with a pop of fresh tart berries and base notes that remind me of the wet forest floor. Unfortunately, Pinot Noir is typically an expensive and notoriously tricky grape, so you're not going to find a ton of delicious bottles in the budget price range that will allow you to populate the Thanksgiving table with multiple bottles (Cheap pinot can be overly sweet, overly oaked, and totally disappointing). But if you are looking for a special bottle(s) of Pinot Noir to share at Thanksgiving, we have found one that over-achieves for its price point and delivers exactly what a great Pinot Noir is supposed to for the Thanksgiving Feast. Primary wines produces varietally correct and over-achieving wines from the best vineyards in California. The fruit for this vintage comes primarily from Sonoma County's Russian River Valley but incorporates other California vineyards, and had been crafted by their winemakers that have worked multiple vintages to deliver consistently delicious offerings. On a side note, we have purchased more than what we require for our Wine Club Members to accommodate you and your guests, if you choose to serve this delicious Pinot Noir at your Thanksgiving Feast!
Varietals:
100% California Pinot Noir
Alcohol:
13.5%
Tasting Notes:
Elegant and smooth, but still lively, this California Pinot features enticing aromas of sun-ripened strawberries against a background of warm baking spices.
Food Pairings:
From Turkey to Ham, or Salmon and the enigmatic Turducken, Pinot Noir is the perfect Holiday Feast pairing for the main dishes as well as the many delicious and savory sides!!!
Jim Lutfy's Thoughts:
Rich and opulent, layers of complexity, with a long lingering finish, the Primary Wines Pinot Noir is best served with Thanksgiving Turkey, Oily Fish, or Duck.
Fine Wine Source Wine

October 2018
Cantina Cardeto:
On August 30th of 1949, the Wine Cooperative of the Orvieto community in Umbria was founded. It is one of the oldest wine cooperatives of central Italy. The winery, which was born with the articles of incorporation signed by the Farmer's Association together with 13 wine producers, was initially set up in lower Orvieto and was expanded several times over the years that followed. On August 7th 1971, the DOC of Orvieto white wine was recognized by a decree issued by the president of the Italian Republic. During the same year, the production regulations of this wine were determined; subsequently, they were subject to some modifications. Currently the typologies of the Orvieto DOC include: dry, semi-dry, slightly sweet, sweet, and late harvest. In 2002, "Rosso Orvietano" ("Orvieto Red") is given its DOCG. These red wines, with particularly excellent organoleptic characteristics, have been produced on the lands surrounding the cliff since medieval times, especially on the properties belonging to the powerful Della Greca family. We dedicated one of our top wines, our "Nero della Greca" to them. It is made from Sangiovese grapes and is aged in French oak barriques for 14 months. This wine is always rated one of the best in international competitions and has won acclaim in journalist Luca Maroni's annual wine review as being the third best red wine from Italy. Today, Cardeto has 150 members who cultivate 820 hectares of vineyards and provide an average of 80-90 thousand quintals (quintal = 100kgs or 112lbs) of grapes. Cardeto has always followed the objective of reducing the sale of the wine of Orvieto in bulk form, in order to improve the wine's image and to contribute to the region's economy.
About:
The characteristic landscape of volcanic origins, the impressive cliffs of tuff, the rolling hills, and the intense greenery of the Orvieto countryside are very striking both to the mind and to the eye. It is an uncontaminated panorama where the dense woods convey the feeling of a maternal and generous nature, who every year offers us the gifts of her precious fruits. In this rich and thriving land, man's efforts have skillfully and patiently cultivated the soil year after year, showing off one of Orvieto's symbolic talents: wine growing. The vineyards for the Rosso contain Guyot and Spurred Cordon trained vines concentrated at 3,300 vines per hectare and have a predominantly southeastern exposure. The volcanic soils are comprised of Pliocene and Sand with the average age of the vines being 15 years. Yields of 12,000 kilograms per hectare are typically harvested at the end of September, sorted, macerated in stainless steel tanks, and fermented for two weeks at a controlled temperature of twenty-five degrees Celsius; finally, aged two months in bottle.
Varietal:
90% Merlot & 10% Sangiovese
Alcohol:
14%
Tasting Notes:
A deep ruby red color is displayed in the glass, with an intense fruit-forward aroma of sour cherry, blackberry, and black currant on the nose. The flavor is smooth and elegant, with nice balanced tannins and acidity.
Food Pairings:
Perfect with red grilled meats, but smooth and elegant enough to not overpower pork or lamb. Great with chili or stews, and pastas with marinara or vodka sauce.
Jim Lutfy's Thoughts:
Purple in color with rich fruit, an elegant mid-palate feel, and a long lingering finish. Best served with tomato sauce based dishes and pastas!
Fine Wine Source Wine

October 2018
MERF Wines:
David "MERF" Merfeld grew up on a family owned farm in Greene, Iowa, and has had the nickname "MERF" ever since he can remember. In 1990 his brother loaned him $1,000 and he loaded up his car with everything he owned and moved to Seattle. When he first arrived, MERF got a job working at a construction inspection company and started brewing beer as a hobby. In 1996, MERF quit his day job and went into brewing full time while he was attending beer school. In 1997, MERF was hired at Bert Grant's Ales as a brewer, which was owned at that time by Ste. Michelle Wine Estates. When the opportunity arose to apply his knowledge of fermentation science to making wine, he jumped at the chance to become involved in the Washington wine industry. MERF's background and experience brewing is a unique point of differentiation from other winemakers. "My entire career I've been focused on the balance of subtle oak notes with the pure expression of Washington fruit. I want the customer to taste the Washington fruit, since it's one of the attributes that really sets the Columbia Valley apart from the rest of the world. The unique growing conditions in Washington produce flavorful and approachable wines. At the end of the day, I make wine that I like and that I want to drink and share with friends. I create wines to be enjoyed." David "MERF" Merfeld
About:
The 2016 vintage experienced the best of both worlds with a hot spring and early summer, but also cool temperatures before and during the harvest. The cooler temperatures in August and September slowed down ripening and resulted in longer hang time for the fruit; consequently, it was the longest harvest on record for WA State (August 15-November 15). The fruit was sourced from vineyards throughout the Columbia Valley in Eastern WA, including Mike Andrews, Mercer Canyons, and Fountain Farm Mgmt. The valley lies in the rain shadow of the Cascade Mts. and receives just 6-8 inches of rainfall annually. Warm sunny days and cool evening temps create ideal conditions for intense aroma and flavor development in the ripening fruit. The northerly latitude gives the valley roughly 2 more hours of sunlight during the peak growing season than California, increasing the region's ability to ripen fruit. The grapes were destemmed and inoculated with various yeast strains to maximize complexity. Gentle pump-overs during fermentation were employed to extract color & flavor and produce soft, supple tannins. 75% of the juice was aged for around 12 months in a combination of French & American oak, with the remaining 25% in stainless steel to preserve character & complexity.
Varietals:
80% Cabernet Sauvignon, 19% Merlot, 1% Cabernet Franc
Alcohol:
14.4%
Tasting Notes:
The Cabernet Sauvignon is balanced, soft and approachable with flavors of blackberry, vanilla, and subtle spice notes; this wine has silky tannins and a flashy finish—From David "MERF" Merfeld.
Food Pairings:
BBQ Ribs, Grilled Steak, or a decadent & delicious slice (or two!) of Chocolate Cake!!!
Jim Lutfy's Thoughts:
Rich & Opulent and loaded with flavors of blackberry and currant. It has an explosive and long finish that makes it best to serve with Ribeye or fatty Steaks!
Fine Wine Source Wine

September 2018
Domaine Lafage:
Domaine Lafage is a leading estate in the Roussillon region in France. Winemaker Jean-Marc Lafage is one of Europe's most highly regarded winemakers and has worked as a consultant in multiple countries. The domaine makes dry wines of all hues under the Côtes du Roussillon AOC along with sweet Maury, Rivesaltes, and Muscat de Rivesaltes wines. In recent years, various wines in the portfolio have received strong marks from Robert Parker in the Wine Advocate. Prices are very modest for the level of acclaim and therefore the wines have become highly sought-after. In fact, Parker called the 2011 Kerbuccio, a Syrah/Grenache/ Mourvèdre blend "one of the top wine values I have ever tasted". Jean-Marc and Eliane Lafage farm 160 hectares of vines located just south of the capital of French Catalonia, Perpignan. Some of their vineyards are situated very close to the Mediterranean, while others can be found in the foothills of the Pyrenees. Benefiting from a warm, dry climate, the estate is farmed organically. They grow primarily Grenache (Blanc, Gris & Noir), Syrah, Mourvèdre, Carignan, Marsanne, Roussanne and Chardonnay with a significant proportion of the vines well over 50 years old. The soil is weathered, alluvial gravel, while in the higher elevation sites it is predominantly schist. They harvest by hand and the winemaking approach is minimalist, with stainless steel, concrete, and small amounts of French oak, and demi-muids. The Lafage cellars are located just outside Perpignan, though it has also has vineyards at Les Aspres and Agly. Domaine Lafage has around 160 hectares (400 acres) of vineyards with vines that are as much as 100 years old. For well over a decade Eric Solomon has worked with Jean-Marc Lafage at his estate in the Roussillon, and across the border in Spain where he consults on several projects.
About:
The Bastide Miraflors is a custom cuvée for Eric Solomon's European Cellars and a joint project with Jean-Marc Lafage. Bastide Miraflors is a cuvée created from Grenache grown on rocky, alluvial clay soils resembling those of the Rhône Valley combined with Syrah grown on schist in the village of Maury. After a long maceration of six weeks the wine ages for 12 months in concrete (Grenache) and 600L French oak demi-muids (Syrah).
Varietal:
70% Syrah & 30% Vielles Vignes (Old Vine) Grenache.
Alcohol:
14.5%
Tasting Notes (from Robert Parker):
"This wine is almost too good to be true. A blend of 70% Syrah and 30% Grenache that was brought up in concrete tanks (Grenache) and demi-muids (Syrah), the 2015 Bastide Miraflors Vieilles Vignes reminded me of a mini Syrah from California's Manfred Krankl (yes I just compared a $14 Syrah to Sine Qua Non). It's a ripe, sexy, heady beauty that exhibits a deep, purple color as well as killer notes of smoked meats, chocolate, blackberry and black raspberries. Deep, unctuous, open knit and layered, it continues to change in the glass, has a seamless and silky profile, and not a hard edge to be found. It's a sensational value that needs to be tasted to be believed. Drink it anytime over the coming 2-4 years."
Food Pairings:
Think early fall comfort foods: Savory sage meatloaf, lasagna, Rosemary herbed potatoes, BBQ/smoked pork loin, country style spare ribs.
Jim Lutfy's Thoughts:
The best Syrah based wine you can buy for the money! Rich, yet elegant, on the palate with a silky and satisfying finish…WOW, what a wine!!!
Fine Wine Source Wine

September 2018
Midnight Cellars:
Midnight Cellars is home to the Hartenberger family and their small production of award-winning Paso Robles wines. The 28 acre estate vineyard is situated in the newly established Willow Creek District, known for its strong marine influence, mountainous landscape, and calcareous soils. This climate, topography, and soil composition create an environment for growing quality, low-yield, sustainably farmed grapes. Planted on south facing slopes are Bordeaux varietals: Cabernet Sauvignon, Merlot, Petit Verdot, and Malbec and terraced is eight acres of Zinfandel and a five acre lot of Chardonnay. The Midnight adventure began on a family vacation to Northern California. As father and son were sipping wine and overlooking a beautiful valley, the casual comment was made: "Hey Dad, you should buy a winery when you retire, and we'll run it for you!" As fate would have it two years later, when Dad's retirement became a reality, the winery idea resurfaced. The family sold their Chicago homes and converged on Paso Robles where they started their dream venture, Midnight Cellars Winery. In 1995 they purchased their 160 acre ranch in Paso Robles, which is now home to three generations of the Hartenberger Family. Midnight Cellars was the 29th established winery in Paso Robles. This area, also known as the Templeton Gap, has warm days and cool maritime influenced nights, making it a prime growing location. The vineyard is planted on hillside and hilltop in shale and limestone-rich soil. The southwest sloping hills face the Pacific Ocean, influencing a temperature swing of 40-50 degrees from daytime to nighttime.
About:
Although 2014 was another consecutive drought year for Paso Robles, this vintage resulted in fruit with powerful concentration and extra intensity. A dry and mild winter led to early patterns of flowering, veraison, and harvest, while the summer was mildly warm, with no extreme spike in heat. This vintage will lead to vibrant wines that will taste great young, but will continue to stay bold and balanced as they age. This is a very special Wine Club offer, only 765 cases were produced and Nebula was selling for almost $50 on Midnight's website with a global average retail price of $43. We guarantee each Wine Club Member the allotted bottle; however, the remaining inventory will not last long!
Varietals:
90% Cabernet Sauvignon & 10% Merlot Aged 18 months in French Oak Barrels
Alcohol:
15.9%
Tasting Notes:
Rich aromatic notes of black cherry, raspberry, and anise rise from the glass. The first sip leads to complimentary flavors of spice and vanilla with full bodied black cherry fruit, berry, spice, leather, vanilla, and well balanced tannins.
Food Pairings:
Great wine for the tailgate or end of summer backyard party; grab nicest, best marbled, juiciest, Porterhouse or Rib-eye you can find and fire up the grill for one last Summer BBQ and enjoy the Nebula!
Jim Lutfy's Thoughts:
Rich, intense, and loaded with layers of complexity, flavor, and a long lingering finish. Best served with tasty red meats broiled or on the BBQ.
Fine Wine Source Wine

August 2018
Agricole Vallone:
Basking in the balmy Adriatic-cooled microclimate of the Salento peninsula in Puglia, on Italy's heel, Agricole Vallone is a large multi-tasking agricultural concern with 170 hectares of vines interspersed with other crops; mostly olive trees, artichokes, and vegetables. It was founded in 1934, but like others at the time, sold grapes to the local co-operative. It was only in the late 1990s that it began bottling its own wines, but it quickly made its name with its flagship wine Graticciaia, a partially barrel-aged red made largely from negromaro grapes dried on mats (graticci) in the autumn sunshine. Designated IGT Salento, this is a very special wine with powerful, concentrated flavors that ages beautifully. The Vallone family started the winery in the 1930s, and many years before then they were Puglian bankers. Now, Francesco Vallone is running the business. He is a tall, usually immaculately dressed, always polite, and very driven Italian, who spends a vast amount of his time doing business in Milan. Francesco only took over the business recently following the tragic and premature death of his father (it had previously been run for many years by his two aunts, Vittoria and Maria Teresa Vallone). The family still owns a grand building in the heart of the beautiful southern Italian city of Lecce, where the company's office is located, as well as where the family lives. The 'building' is actually a 400 year old castle that was used as a fortress to protect the locals from the Crusaders as well as to produce olive oil and wines. Francisco plans to restore and transform the castle into a resort with private rooms, where guests can enjoy facilities such as private swimming pools, private dining rooms, private cooking facilities, and an exclusive spa.
About:
The IGT, DOC and DOCG acronyms are designations used for the Italian wine appellation system (similar to the French AOP system, from which most countries have modeled their industries). Each individual designation has specific rules controlling the various factors of winegrowing: what grapes are allowed, grapes to yield per hectare (@2.5 acres), geographic borders, alcohol levels, ageing, etc. These strict regulations ensure that certified growers have a safeguard on the quality and the authenticity of their products. Indicazione di Geografica Tipica, or Indication of Typical Geography (IGT), is the 1st level of designation for Italian wines. With this designation, winegrowers do not have to follow the specific growing and winemaking rules as they do with the DOC & G, and thus have more creative freedom. You can find beautiful IGT wines all across Italy; however, the only rule is that the wines must originate in the stated region.
Varietal:
100% Primitivo (Very closely related to Zinfandel, likely originated from Croatian Crljenak. A Primitivo wine is rumored to be the wine served at The Last Supper).
Alcohol:
13%
Tasting Notes:
Notes of blueberry, blackberry, violets and leather on the nose lead into earthy-sweet plum and ripe fig flavors, with luscious depth and a plush juicy finish.
Food Pairings:
PIZZA!!! Basically anything tomato based; spaghetti bolognese, chicken parmigiana, veal parmigiana, eggplant parmigiana, chicken cacciatore, earthy vegetables, and dry firm cheeses.
Jim Lutfy's Thoughts:
A great Italian wine from Puglia in the boot of Italy. Loaded with dark fruit and layers of complexity; best served with veal, pork, or tomato based dishes!
Fine Wine Source Wine

July 2018
Bodegas Piqueras:
Family owned and operated, the Piqueras family is now in their fourth generation to oversee the property since its establishment in 1915. The winery is located in Almansa, 40 miles from Alicante and the Mediterranean Sea. The vineyards are located inside the Almansa DO which is characterized by its low fertility soils and low rainfall which together with the semi-arid climate combine to create the ideal conditions to produce richly aromatic wines of intense color and flavor. Bodegas Piqueras brings passion to their winemaking. They also take quality very seriously with every step of the winemaking process, and so they keep a close eye on everything. Having grown a lot in recent decades, they still pay the same attention to detail they always have over the generations, without losing sight of the mystique of winemaking that takes a good producer to convey. With state of the art equipment and technology to help with grape picking, pressing, filtration, bottling and labelling, The Piqueras family believe you really have to listen to the wine; to sense its development, to create the perfect blend from each vintage, they can't rely on automated procedures. They have to be right there on the spot, alert in body and mind, to choose the precise moment to harvest the grapes and make the wine. To achieve this requires patience, being there, knowledge and a whole lot of passion.
About:
The Piqueras family believe that a good wine is born in the vineyard, which is why they carry out meticulous plant selection, careful pruning, monitoring of vine health and overall quality control. The family is the body of Bodegas Piqueras, but the heart and soul of their wines comes from fruit & land. The Syrah grape has adapted perfectly to the Almansa climate. It is uses it to make spicy wines that are full of color and flavor. The Monastrell grape, known as Mourvèdre in France, is one of Spain's most important wine grapes, celebrated for its capacity to produce strong, tannic wines that can be high in alcohol. They vineyards are 30-35 year old bush vines which are dry farmed at 750-850 meters elevation in limestone rich, nutrient poor soils that see little rainfall. Harvest began in mid-September then vinification from spontaneous wild fermentation with gradual increases in temperature up to 29º C to obtain good color, and then a gradual decrease to 23 ºC to preserve the primary aroma of the fruit. Racking by gravity feed, 4-6 months in medium toast, fine grain American & French oak barrels (300L).
Varietal:
50% Syrah & 50% Monastrell (Mourvèdre)
Alcohol:
13%
Tasting Notes:
Ripe red cherry, raspberry, crushed boysenberry, red plum and a touch of vanilla spice on the nose. Medium-bodied and deep in color with well integrated fine juicy tannins, persistent and soft on the palate with a silky fruit-forward finish.
Food Pairings:
Enjoy this smooth red by itself or with grilled, roasted or fried dishes, barbecued red meats, rice and pasta dishes, cured salted meats (jamón, chorizo) and semi-cured cheeses.
Jim Lutfy's Thoughts:
A spice box loaded with spicy flavors, sage, and fresh herbs; big intensity and flavor. Best served with lamb or beef.
Fine Wine Source Wine

July 2018
Ray's Station Winery:
John Ray, former Army Captain and Bear Flag Republic Leader (1846), was an early founder in what is now Northern California's Wine Country. After establishing successful vineyards throughout the region, Ray made his way up the northern stretch of the Russian River, planting some of the very first vineyards in Mendocino County, a county noted for its distinctive Pacific Ocean coastline, Redwood forests, and now under the canopy of those Redwoods, cannabis crops. Little did he know that one day Mendocino County would be known as "America's Greenest Wine Region" – in more ways than one. Ray's Station celebrates John Ray's search for exceptional terroir and his need for discovery. An extended growing season, long hot days and cool maritime-influenced nights combine to make Mendocino a world-class winegrowing region. The benchland vineyards, from which the fruit is sourced, offer soils with exceptional drainage and vines whose roots grow deeper than typical valley floor vines, adding complexity to the fruit. Sustainable farming practices ensure that these small-production wines are intense, bold and full of character, much like the region itself.
About:
Down the road from the Russian River in the southern hills of Mendocino County, our expert winemaker crafts powerful yet approachable wines all at our estate winery. Overseeing fruit sourcing and winemaking is the renowned winemaker Michael Westrick. Michael has been crafting top tier, Bordeaux inspired wines for more than 20 years and has directed winemaking for such well-known wineries as Sterling Vineyards in Napa and Stonestreet Winery in Sonoma. With a hands-on approach and well-honed craft, Michael is excited to now create exceptional Cabernet and Merlot from Mendocino County, from handpicked fruit and small-lot fruit, his winemaking captures the full-flavored, terroir-specific expression of this region.
Varietals:
80% Cabernet Sauvignon, 10% Merlot, & 10% Malbec
Alcohol:
13.9%
Tasting Notes:
Aromatic and complex: this vibrant wine fills your nose with scents of briar and sweet wild berries characteristic of Mendocino fruit. The palate follows the fruit trail with flavors of boysenberry, blackberry, black raspberry, and wild cherry. French Oak ageing adds hints of espresso and vanilla framing the fruit seductively while full, rich, silky soft tannins carry these sensations long into the powerful finish. Enjoy today or cellar for future reference over the next ten years.
Food Pairings:
Pair with tomato pastas, juicy bacon cheeseburgers from the grill, BBQ ribs, Steak, or some grilled Portabella mushrooms.
Jim Lutfy's Thoughts:
Rich & complex cab that is loaded with black fruit that leads to a lush mouthfeel and a long, lingering finish; best served with grilled meats on the BBQ or rich and flavorful cheeses.