Fine Wine Source Wine

April 2019
Tortoise Creek Wines: Tortoise Creek is an outstanding line of varietal wines that have been sourced from vineyards predominately in the Lodi region. Great importance is placed on sustainable practices in both the vineyard and winery and the large majority of the Tortoise Creek wines are certified sustainable. The wines all represent the purist possible examples of single varietal wines and all are remarkable value. Starting with the 2009 vintage Lodi Zinfandel "The Chelonian", Tortoise Creek Wines has partnered with the Chelonian Research Foundation (CRF) to donate a portion of the annual profits to benefit the conservation of turtles and tortoises. The Chelonian Research Foundation, a non-profit organization, was founded in 1992 by Dr. Anders G.J. Rhodin for the production, publication, and support of worldwide turtle and tortoise research, with an emphasis on the scientific basis of chelonian diversity and conservation biology. More information can be found at Chelonian.
The Chelonian Zinfandel: "The Chelonian" refers to the genus of tortoises and turtles. The Zinfandel fruit comes from three well-managed vineyards in the Clements Hills and Lodi-proper areas near Sacramento and is a blend of 90% Zinfandel, 5% Tannat and 5% Petite Syrah. Gravity flow handling is used where the fruit is destemmed (but not crushed) and whole cluster fermentation maximizes flavor and color extractions. Extended maceration was used to add depth, structure, complexity and to stabilize the unique color of Zinfandel. To fill in the mid-palate and add softness the wine was aged in oak for 6 months.
Varietals: 90% Zinfandel, 5% Tannat, and 5% Petite Syrah
Alcohol: 14.5%
Tasting Notes: No other variety represents the region of Lodi like Zinfandel. Over 100 years ago European settlers believed it to be the best fit for the climate and soils and their keen insight paid off. Our Zinfandel "The Chelonian" has a lovely spicy, cherry like bouquet and is bursting with sweet, berry flavors. There are also delicious overtones of black currant and plums, with a welcoming finish of vanilla and cinnamon toast.
Food Pairings: Zinfandel wine is happiest when paired with anything from the meat aisle, burgers, grilled sausages, lamb chops, pork, meat stews, hearty pastas, or barbequed dishes. If cheese is more your thing, try The Chelonian Zinfandel with aged cheddar, aged Gouda, parmesan, asiago, or a dry cheddar jack.
Jim Lutfy's Thoughts: Big, rich, and spicy with layers of complexity; best served with zesty grilled or BBQ meats!
Wine Club Member HOT Deal: 2015 The Omen Zinfandel is a classic example of terroir-based Sierra Foothills Zin. We currently have what may be the last of the retail inventory in existence. With the 2016 vintage, The Omen winemakers decided to discontinue the single-varietal bottling; instead, using the fruit for blending. FWS Wine Club Member Price $24.99!!! Grab a bottle or two before it disappears…FOREVER.
Fine Wine Source Wine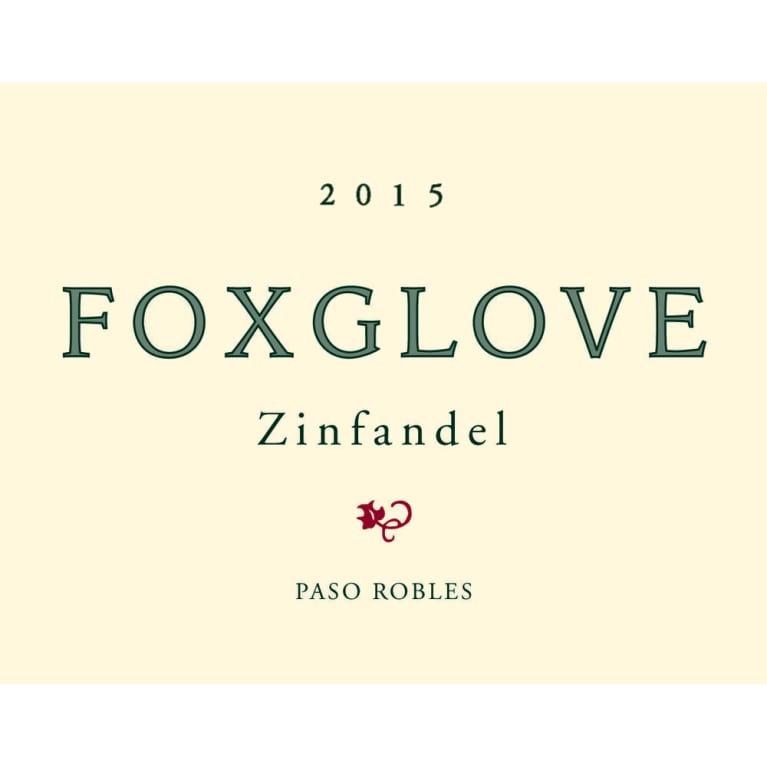 January 2019
Foxglove Wines:
Foxglove is the value label from twin brothers Jim and Bob Varner. "The idea," says Bob Varner, "is to be as simple as possible." At the core of Foxglove is Bob Varner, also the winemaker at Varner Wines. Starting from their first vintage in 1991, Bob sources his Pinot & Chardonnay from a variety of places, all of which are in Edna Valley. The resulting wine has Central Coast appellation pricing, and is full of the complex fruit flavors that the Edna Valley appellation is known for. Edna Valley, a relatively small appellation, grows mostly Chardonnay on about 1000 acres. The entire acreage is tightly controlled by a few owners employing the most up-to-date vineyard practices that give the valley impressive evenness. Located just south of San Luis Obispo, its vineyards are some of California's closest to the Pacific Ocean. Mild winters, cool, foggy summer, and clay-loam soils produce a combination of flavors that have been described as "textbook Central Coast." Bob and Jim Varner are best known for the Chardonnay and Pinot Noir they produce under the Varner label, but Foxglove has become one of the great value labels made in California. The Foxglove wines are selected from several sites located in the Central Coast and are made with the same care and dedication as the Varner wines. The warm climate and ocean influence create wines that burst with fruit but have plenty of vibrancy and freshness. The use of oak is minimal and the Chardonnay is non-malolactic. While Chardonnay is the best know varietal from Foxglove, the Cabernet and Zinfandel have slowly gained an equally strong following.
About:
Food & Wine picked the 2015 Foxglove Zinfandel as an exceptional bargain bottle for under $20: "The juicy wild berry and herb flavors in this great-value Zinfandel finish with tart acidity" August 7, 2017. Sourced from the Northern area of Paso Robles, the vines have an average age of twenty-five years. The vines are planted on rolling hills with loam soils at 900-1,000 feet of elevation. 100% destemmed, pressed at dryness, and malolactic completed after pressing. The use of stainless on the Foxglove Zin keeps the ripe fruit from being too dark.
Varietals:
80% Zinfandel & 20% Petite Syrah
Alcohol:
14.5%
Tasting Notes:
Offering up pretty aromas of strawberries, blackberries and spice, the 2015 Zinfandel is medium-bodied, supple and velvety, with melting tannins and a juicy core of fruit. This is a delicious Zinfandel that represents amazing value.
Food Pairings:
Zinfandel wine is happiest when paired with anything from the meat aisle, from barbeque pork ribs, leg of lamb or a big, hearty meal. Think Pork, Beef, Lamb, Italian Sausage, Spare Ribs, Brisket, or Venison. You can also enjoy Zinfandel with bold, hearty soups, as well as your favorite kind of pizza. If cheese is your thing, try Foxglove Zin with Parmesan, Aged Cheddar, Aged/Smoked Gouda, Asiago, or Dry Jack. All-in-all, Zinfandel is a versatile wine for pairings!
Jim Lutfy's Thoughts:
Textbook Zinfandel: Purity of flavor, loads of spice and tart cherry!! Big back bone and a long lingering finish; best served with BBQ or Grilled Meats!
Fine Wine Source Wine

August 2018
Agricole Vallone:
Basking in the balmy Adriatic-cooled microclimate of the Salento peninsula in Puglia, on Italy's heel, Agricole Vallone is a large multi-tasking agricultural concern with 170 hectares of vines interspersed with other crops; mostly olive trees, artichokes, and vegetables. It was founded in 1934, but like others at the time, sold grapes to the local co-operative. It was only in the late 1990s that it began bottling its own wines, but it quickly made its name with its flagship wine Graticciaia, a partially barrel-aged red made largely from negromaro grapes dried on mats (graticci) in the autumn sunshine. Designated IGT Salento, this is a very special wine with powerful, concentrated flavors that ages beautifully. The Vallone family started the winery in the 1930s, and many years before then they were Puglian bankers. Now, Francesco Vallone is running the business. He is a tall, usually immaculately dressed, always polite, and very driven Italian, who spends a vast amount of his time doing business in Milan. Francesco only took over the business recently following the tragic and premature death of his father (it had previously been run for many years by his two aunts, Vittoria and Maria Teresa Vallone). The family still owns a grand building in the heart of the beautiful southern Italian city of Lecce, where the company's office is located, as well as where the family lives. The 'building' is actually a 400 year old castle that was used as a fortress to protect the locals from the Crusaders as well as to produce olive oil and wines. Francisco plans to restore and transform the castle into a resort with private rooms, where guests can enjoy facilities such as private swimming pools, private dining rooms, private cooking facilities, and an exclusive spa.
About:
The IGT, DOC and DOCG acronyms are designations used for the Italian wine appellation system (similar to the French AOP system, from which most countries have modeled their industries). Each individual designation has specific rules controlling the various factors of winegrowing: what grapes are allowed, grapes to yield per hectare (@2.5 acres), geographic borders, alcohol levels, ageing, etc. These strict regulations ensure that certified growers have a safeguard on the quality and the authenticity of their products. Indicazione di Geografica Tipica, or Indication of Typical Geography (IGT), is the 1st level of designation for Italian wines. With this designation, winegrowers do not have to follow the specific growing and winemaking rules as they do with the DOC & G, and thus have more creative freedom. You can find beautiful IGT wines all across Italy; however, the only rule is that the wines must originate in the stated region.
Varietal:
100% Primitivo (Very closely related to Zinfandel, likely originated from Croatian Crljenak. A Primitivo wine is rumored to be the wine served at The Last Supper).
Alcohol:
13%
Tasting Notes:
Notes of blueberry, blackberry, violets and leather on the nose lead into earthy-sweet plum and ripe fig flavors, with luscious depth and a plush juicy finish.
Food Pairings:
PIZZA!!! Basically anything tomato based; spaghetti bolognese, chicken parmigiana, veal parmigiana, eggplant parmigiana, chicken cacciatore, earthy vegetables, and dry firm cheeses.
Jim Lutfy's Thoughts:
A great Italian wine from Puglia in the boot of Italy. Loaded with dark fruit and layers of complexity; best served with veal, pork, or tomato based dishes!
Peachy Canyon Winery is a small family owned winery in the beautiful wine country of Westside Paso Robles on the Central Coast of California; near Hearst Castle and Big Sur. Peachy Canyon Winery specializes in estate Zinfandels and has been family owned and operated by the Beckett Family since 1988.
Made in a traditional style, this Zinfandel originates from dense, ripe grapes offering an array of delicious characteristics. A bright and pleasing wine, every glass is packed full of berry flavors and lanced with lightly toasted oak and mild spice aromas.
History of Peachy Canyon: When Doug and Nancy Beckett, a couple of school teachers looking for a better life, moved to Paso Robles in 1982 with their two sons, Joshua and Jacob, they never knew the life they would lead today. The label's start came in 1988, thanks to a load of Zinfandel grapes from Benito Dusi's vineyard. Though only amounting to a couple hundred cases, the premiere release centered the label's reputation for premium red wines.
Today, the Beckett's brand has become nationally distributed in 49 states and select international destinations. In order to secure premium fruit, Peachy Canyon sources grapes from over twenty local growers in the Paso Robles AVA and 100 acres of their own vineyards. The winery is still headed by founding vintners Doug and Nancy, as well as the family's second generation. After years away from home, both Josh and Jake returned to Paso Robles and Peachy Canyon to work for the family business. Josh has been with the winery for nine years and has been the winemaker since 2003. Combining his varied experiences with different winemakers and regions, Josh keeps an open mind in order to create the most exciting wines possible. Jake wasn't able to resist the lure of the family business either. For years, Jake worked as the vineyard manager over-seeing the four Peachy Canyon Vineyards and working with local growers to ensure fruit quality is kept at their high standard. In 2005, Jake wanted to learn other aspects of the business and joined the sales team. Jake now is the General Sales Manager and travels the country promoting the family brand.
Varietal(s): 90% Zinfandel and 10% Petite Sirah
Alcohol: 14.1% by volume
Food Pairings: Perfect for any occasion! Enjoy this bottle with or without food, but pairs perfectly with rich bold flavors. Try with grilled meats, savory stew, etc. Enjoy!
Tasting Notes: Bright, luscious and fruit-forward, the fan-favorite Incredible Red Zinfandel bursts out of the glass with a rich cherry nose, and develops into red summer fruits on the palate. Balanced acidity and structure and subtle notes of leather finish  with spicy oak and mocha in a lingering finish.
Jim Lutfy's thoughts: "Ripe and loaded with berries and spicy fruit with a long deep finish. Great with BBQ and other grilled meats. I know this is a sure winner! Peachy Canyon has always been a favorite of mine, and I'm sure it will be a favorite of yours too!"-JL
"Our label and brand celebrate a historic home at our estate vineyard near Paso Robles. That 150-year-old adobe structure – the Clayhouse itself – still reminds us of the time when grapes were first planted in this area. The Clayhouse, which we've carefully restored, is really the ideal symbol for our vineyard and winery. After all, like the adobe, our wines are created from the earth, cultivated by hand, and nurtured by family traditions.
For the Middleton family, those traditions and deep passion for agricultural businesses go back more than four generations.
Today, Clayhouse Wines extend that proud family legacy with a selection of exceptional wines, all crafted by hand in a refined, elegant style that reflects the unique character of Paso Robles and the depth of flavor that the Central Coast imparts."-clayhouse.com
About 'The Clayhouse':  "The 150-year-old adobe structure — the Clayhouse itself — really is the ideal symbol for our vineyards. After all, like the adobe, our wines are created from the earth, cultivated by hand, and nurtured by family traditions.
For the Middleton family, those traditions and deep passion for agricultural businesses go back more than four generations. Today, Clayhouse extends that proud legacy with its selection of exceptional wines, all hand-crafted in a refined, elegant style that reflects the unique character of Paso Robles."-clayhouse.com
Vintage Description: Even fairly mild summer for Paso Robles. Yields were average producing a good well rounded vintage with expressive fruit flavors.
Varietal: 33% Zinfandel, 32% Petite Sirah, 20% Syrah, 13% Tempranillo, 2% Tanat
Alcohol: 13.7% by volume
Tasting Notes: Sweet ripe red cherries aromas. Jammy strawberry preserves and spice combine in the mouth in this complex blend of fruit flavors. Tannins are soft and rounded with a rich mouthfeel and warm toasty vanilla laced finish.
Food Pairings: This wine is a reliable Jack of all trades, made for cheeses, meat and red sauce based pastas, bbq, pizza or just sipping with friends.
Jim Lutfy's thoughts: "A great blend! Tons of concentration and flavor. A wine that will make you stand up and take notice. A wine that is a perfect summertime sipper! Drink with rich cheeses and hardy meats!"-JL
For five generations, the Lange family has been growing sustainable winegrapes in the Lodi Appellation, and in 2006 they opened a winery to showcase their passion for growing winegrapes – because great wine starts in the vineyard.
Building on their successes as a vineyard management company, the winery was their first step into crafting wines made solely from their estate vineyards.  Since opening in 2006, they have continued to expand their state-of-the-art winery to keep up with the demand for their Lange Twins wines as well as private labels and custom winemaking services.
Although they have the latest winemaking technology at their fingertips, they never lose sight of the fact that only great wine can be made from great winegrapes.
About the Winemaker: David, a second generation winemaker who graduated from University of California, Davis, is a 25 year veteran winemaker from Robert Mondavi. As Director of Winemaking at Woodbridge by Robert Mondavi, he led a team of enologists in creating and evolving their wine style to improve the quality of Woodbridge wines. He helped pioneer winegrower lot processing for direct wine quality feedback, supported barrel aging of premium wines for enhanced quality, and drove stylistic winemaking for hundreds of different wines. His winemaking philosophy stems directly from Robert Mondavi himself, driving continuous improvements while nurturing a respect for both grape and wine.
Varietals: 100% Zinfandel
Alcohol: 14.9% by volume
Tasting Notes: The 2010 Zinfandel has an aroma of bright crushed blackberry and blueberry fruit. On the palate, loads of fresh vibrant blackberries meld with notes of spice and are balanced by a touch of vanilla oak and soft tannins. It is a luscious wine!
Food Pairings: Zinfandel is a great wine for the cold weather months. Pair this wine with richer foods like braised meats or even with heavy cheeses. Zinfandel can also be a great dessert pairing, especially with chocolate and fresh berries.
Jim Lutfy's thoughts: "Rich, flavorful, and spicy…loaded with flavor. A great wine for this time of year. Enjoy at home, by the fire, with some hearty soup or chili. The wine will warm you up!"-JL
Ancient Peaks wines hail from their estate Margarita Vineyard, which stands alone as the southernmost vineyard in the Paso Robles region. Here, amid the rugged Santa Lucia Mountain range just 14 miles from the Pacific Ocean, they maximize the remarkable diversity of their soils to craft wines of depth and dimension.
Their Zinfandel has emerged as one of the Paso Robles region's most acclaimed Zinfandels in recent vintages, including "Steal of The Year" honors in Sunset Magazine, 93 points in Wine Spectator and a Top 100 Wine of The Year designation by the San Francisco Chronicle. This acclaim is rooted in their estate Margarita Vineyard, which yields an intense yet finely balanced expression of the Zinfandel grape.
History of Zinfandel and its Relation to Ancient Peaks: A man named Joseph W. Osborne may have made the first wine from Zinfandel in California. He planted Zinfandel from Macondray at his Oak Knoll vineyard just north of Napa, and his wine was much praised in 1857. Planting of Zinfandel boomed soon after, and by the end of the 19th century it was the most widespread variety in California.
Zinfandel old vines are now treasured for the production of premium red wine, but many were ripped up in the 1920s, during the Prohibition years (1920–1933), but not for the obvious reason. Even during the Prohibition, home winemaking remained effectively legal, and some vineyards embraced the sale of grapes for making wine at home. While Zinfandel grapes proved popular among home winemakers living near the vineyards, it was vulnerable to rot on the long journey to East Coast markets. The thick-skinned Alicante Bouschet was less susceptible to rot, so this and similar varieties were widely planted for the home winemaking market. Three thousand cars (about 38000 t) of Zinfandel grapes were shipped in 1931, compared to 6000 cars of Alicante Bouschet.
The 2010 Zinfandel is composed of fruit from five separate blocks spanning three different soil types at their estate Margarita Vineyard–shale, sedimentary and volcanic. Collectively, these different soils and exposures bring natural complexity and dimension to the wine. Additionally, the vineyard's marine-cooled climate and long growing season enable the Zinfandel fruit to achieve inherent structure and restraint
while delivering ample varietal richness and spic e.
Varietals: 100% Zinfandel
Alcohol: 15.0% by volume
Tasting Notes: The 2010 Zinfandel offers vibrant aromas of crushed raspberry and blueberry with a dash of sweet oak. Bright, juicy flavors of raspberry, boysenberry and black cherry anticipate notes of cola and spice. A smoky vanilla note joins luscious acidity on a rich, jammy finish.
Food Pairings: The wine pairs well with grilled lamb chops, wood-fired sausage pizza, Santa Maria tri-tip and chicken fajitas.
Jim Lutfy's thoughts: "Really an old school interpretation of Zinfandel. As spicy as it is rich, with great balance and weight. A wine with tremendous flavor and intensity, but also elegance. I am excited to share it with you!"-JL